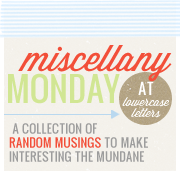 1. RetailMeNot.com
Do you shop online? Do you like to save money? Do you know about this website? If not, you should bookmark it right now. Before you make your next online purchase, check this site to see if there's a coupon code you can use for a discount or free shipping. I did a little early Christmas shopping this morning and saved 50% with a coupon code from
RetailMeNot.com
. I'd tell you where and on what, but some of my readers will be receiving what I purchased, and I'd hate to ruin the surprise. :)
2. Squash Season Continues
I'm still cooking my way through
my collection of autumn squash
. Tonight I'm trying a recipe for
Sugar & Spice Acorn Squash
that comes courtesy of Emeril & Food Network.
3. Urban Belly
After church on Sunday Travis & I went out to lunch with three couples from our small group at
Harvest Chicago North
. We enjoyed conversation and laughter over Urban Belly's delicious noodle bowls, rice, and dumplings (which we'd been wanting to try since seeing the restaurant on Food Network's Best Thing I Ever Ate). Travis and I shared an order of Asian Squash & Bacon dumplings and the Soba Noodle Bowl with Bay Scallops, Oyster Mushrooms, and Thai Basil Broth. If you live in Chicago, check out
Urban Belly
. Your belly--and your tastebuds--will thank you.